News
B+N Referencia Zrt. refurbished 17 hospitals in Budapest in record time
In one of its decrees in 2020, the Hungarian government made a decision about the renovation of state-financed public hospitals included in the 'Healthy Budapest' program. The resoluteness of the cabinet is shown by the fact that an amount of HUF 60 billion was allocated to this project, which sum was later increased by HUF 14.8 billion. We are proud that B+N is carrying out the complex renovation work.    
The planning and implementation phases were coordinated by the Directorate for Public Procurement and Supply. The aim of the renovation was to ensure that the hospitals will meet even the most stringent professional requirements and the challenges of the 21st century. The employees of B+N, addressing professional and logistical challenges, carried out energy efficiency and aesthetic improvements in a total area of 300,000 in 200 buildings of 17 hospitals in Budapest, in 2 million working hours within a record-breaking 546 days between  September 2020 and March 2022.
B+N Referencia Zrt. – complex renovation work
The renovation work included a number of processes: painting, change of surface covers, the refurbishing of sanitary facilities, heating systems and electrical networks, the replacement of doors and windows and the installation of optical networks. The air ducts of all the operation rooms included in the project were fully cleaned and the air technology equipment of a number of operating rooms was overhauled. With some institutes, external renovation was also needed in addition to internal improvements.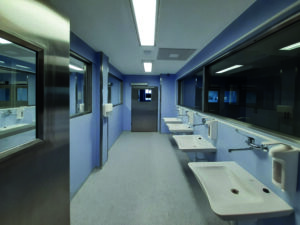 We managed to make up for several decades of lagging behind within a record time in the case of facilities included in the project. As a result, we have showcased the expertise, knowledge and experience of B+N Referencia Zrt. again in the field of complex renovation works.
Hospital renovation – energy efficiency improvements, significant savings
Just with energy efficiency improvements, hospitals can achieve significant savings on an annual basis.
It is important to highlight that the project period fell entirely within the Covid pandemic and that the work was coordinated in a way that the hospitals were fully functional and patient care did not stop in the meantime.
The result speaks for itself. We are proud that the modernized facilities now serve the convenience and safety of hospital staff at a much higher standard and aesthetic level.
Thanks to B+N Referencia Zrt., the residents of the capitol city and its catchment area can have access to medical services at European standards in all 17 hospitals.