News
There will always be a need for them! look around and see!
Takarítás és fertőtlenítés – van, akinek ez a mindennapos feladata, még sincs megbecsülve.
Gyakrabban takarítsunk, fertőtlenítsünk! – szól a jó tanács. Otthon az 50 m2-es lakásunkban könnyedén eleget teszünk ennek a felszólításnak, de gondolt már arra, hogy egy 2000 m2-es irodaház vagy kórházi terület esetében ez mekkora munkát jelent? Ilyen területeken hivatásos takarítókra van szükség, munkájukat mégsem becsüljük meg eléggé. A KSH 173 foglalkozást vizsgált meg, hogy egy 1-15 skálán mekkora a presztízsük 5 szempontot figyelembe véve: mennyit lehet keresni, mekkora hatalom, befolyás jár vele, mennyit kell tanulni érte, mennyire hasznos a társadalom számára, az adott foglalkozás mennyire vonzó manapság. A válaszadók szubjektív megítélése szerint a legalacsonyabb presztízsű tíz foglalkozásba került a takarító. A 163. lett és csak az utcaseprőt, a szemétszállítót, a szórólaposztót vagy a segédmunkást előzi meg.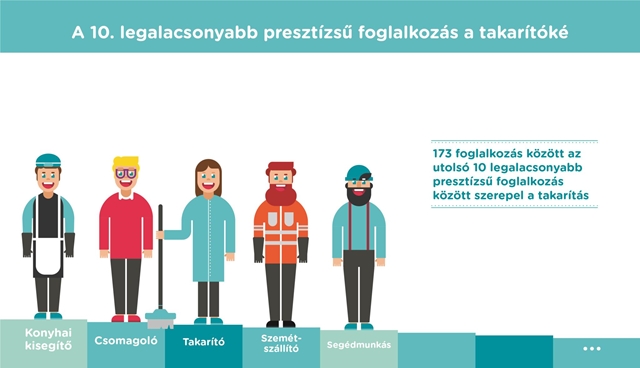 –       Tavaly óta terveztük, hogy elindítunk egy társadalmi érzékenyítő kampányt, ami arra világít rá, hogy a takarítók munkájukat szinte láthatatlanul végzik, holott a társadalmunk működéséhez elengedhetetlen, amit tesznek. – mondja Kis-Szölgyémi Ferenc hazánk legnagyobb takarítással is foglalkozó létesítményüzemeltető vállalatának, a B+N Referencia Zrt.-nek vezérigazgatója. – Hosszú hónapokig folytak az előkészületek, és mire készen lettünk, hazánkat is elérte a COVID-19 fertőzés. De ha valamikor, akkor ma többszörösen igaz, hogy a társadalmi megbecsülés az itthon dolgozó 45 ezer hivatásos takarítónak is jár. Mi 4.100 takarítót foglalkoztatunk, akik ma is helyt állnak a közlekedési eszközök, kórházak, és a rengeteg irodaház takarításával. A társadalom többsége a tisztaságot természetesnek veszi, de az ezt megteremtő embereket nem becsüli meg. A "Vedd észre" kampányunkkal szeretnénk megmutatni, hogy másképp is lehet.
Nincs elég takarító
Miközben a járvány által okozott helyzetben bizonyos feladatokról rögtön kiderült, hogy teljesítésükhöz fizikai jelenlétre van szükség, a takarítók felé irányuló hála még mindig csekély. A B+N Referencia Zrt. által végzett felmérésben részt vevő takarítók arról számoltak be, hogy sokszor levegőnek nézik őket, még csak nem is köszönnek nekik. Az alacsony társadalmi presztízs és a megbecsülés hiánya pedig hozzájárul ahhoz is, hogy a takarító cégek munkaerőhiánnyal küszködnek.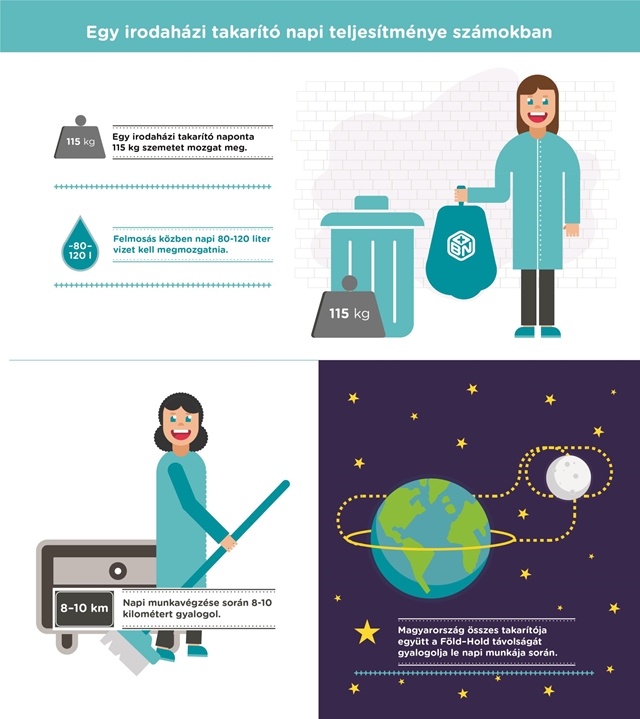 –       Hiszünk abban, hogy a takarítás és a takarítók ennél sokkal többet érdemelnek. Képzeljék csak el, milyen lenne a világunk nélkülük? Mit szólnánk, ha senki sem ürítené ki a szemetest, ha nem lenne, aki a kórházi szobát fertőtleníti? – veti fel Kókai Erika, a B+N marketing igazgatója. – Annyira megszoktuk a körülöttünk levő rendet és tisztaságot, hogy azt már adottságnak tekintjük, de nem vesszük észre azt, aki ezt megteremtette. Azt gondoljuk, hogy az emberek hozzáállása csak azért közönyös, mert soha senki nem hívta fel a figyelmet arra, hogy értékeljük azt a munkát, amit a takarítók értünk végeznek. Felelősségünk tenni ennek a foglalkozásnak a megbecsüléséért, hiszen, ha ez így marad, hamarosan nem lesz, aki kitakarítja az országot.
Forrás: hvg.hu
Tovább a Vedd észre kampány oldalára: veddeszre.com
#veddészre