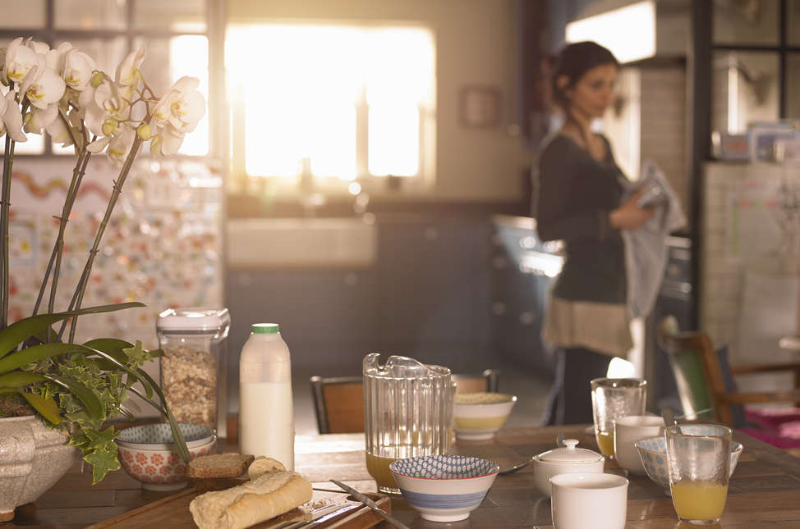 The first day of our quarantine life – which felt like a thousand days – passed in an oddly cozy atmosphere up until till today when everyone in the family was yelling at each other, the dog was barking and everyone got mad at everyone. But most of all it was I who was the bad guy thinking others should take part in running the household too, as next to my work with so many people in so little space it was sometimes too much for me to cope with… When the heat died down a little, I remembered my sharp-tongued Anna, who was our cleaner, or rather friend and assistant and later chieftain for many, many years. Actually, she was a self-appointed life and flat coach at a time when nobody used the word "coach". By Kriszta Marossy.
I was twenty when our world and family fell apart. We started a totally different kind of life without my suddenly departed elder brother and with a new foster father, in a new flat, in utter chaos. Broken apart but sticking together. Every evening we had painkilling parties, dinners and conversations to put our minds off and there were ping pong battles till dawn on the ping pong table set in the living room of our flat in District 7.  There was everything but order there. My mother worked a lot, we, the children, studied, whereas my foster father was mostly running the kitchen. But we had with us three cats and the artefacts of our many lives scattered all around the flat.
I remember, one night a house proud friend of mine mentioned that they had just hired a cleaner who just moved from Transylvania, and it changed their lives. This girl was looking for even more work since she had just arrived and didn't have an established social network yet. We – according to my friend's observation – definitely needed her help. One word led to another and Anna was standing at our doorstep 2 days later. My Anna. Our Anna.
She was twenty, exactly my age. She was small but sturdy, freshly married, with her husband just moving to Budapest from a little Transylvanian village in hope of a better life, or at least better work opportunities. I think we developed a mutual rapport at the very first moments when she introduced herself confidently and instructed me to bring out this and that cleaning tool. She trashed all of them and assured me that although it will be challenging, there will be order and cleanliness in our home!
I suspected even back then that her aim was not only to clean up the flat but also our family, however, at the beginning she remained silent about it.
A very interesting and great connection built up between the two of us. For me it was really embarrassing to be served but she was far from being a humble personality, which helped me dissolve my embarrassment. She had a firm grasp at everything and everyone, and even if she wasn't always right about everything, you could not convince her about the opposite. She appointed me as the good guy in the family and whenever I was at home, she invisibly assigned me cleaning tasks only to later scold the others at home, one by one.
Anna gradually became such a lively part of our life that we didn't even think of rebelling against her. At best we mocked her strictness, which she also laughed about occasionally, but even when she didn't, she knew she was surrounded by people who loved her. She was much cheekier with us than we ever were with her anyway. But it didn't matter at all, we had a strong bond with each other.
She was part of the family, knew everything about everyone, asked questions and gave advice, and in time she also opened up to us. She accepted my mother as her second mother, asking for advice from her and me alternatively. She scolded my younger sister as if she was her sister. She told off my foster father, who spend most of his time at home writing, as an oddball, or praised him for the great work he had done with the dishes the previous day.
She spent with us one day a week. After a few months we caught ourselves preparing for Anna's upcoming return by packing stuff away. We did it to make her job easier but also to avoid being scolded by Anna.
A few months after her first visit, we laughed out loud when we realized Anna got us together as much as possible, given the circumstances. It was because of her that we had any sort of structure in our life, which brought all of us a measure of serenity.
However, in the first few years I got to get used to packing after her after she left. She hated packing ironed clothes. First I thought how thoughtful it was of her not to intrude into our personal wardrobes. Later, I was not so sure about it: what happened is that she found a part of my grandmother's heritage, beautiful doilies and lace covers crocheted by grandma, at the bottom of my mother's wardrobe. This wouldn't have been a problem in itself if she hadn't picked up the habit of putting a doily on literally everything. The TV, the couch, even the chairs fell victim to the dreaded "Anna finishing".
Needless to say, we wouldn't tell her about it because once I caught her looking back at the clean flat. I could see in her sparkling eyes that she had created the home for us she grew up in.
We slowly and invisibly grew such a bond with each other that on a summer afternoon she appeared at our doorstep with a single suitcase in her hand begging for us to hide her from her abusive husband and father-in-law. Then and there, she revealed details about her life which I obviously won't disclose, but I myself got really close to pressing charges.
However, as Anna was not yet a Hungarian citizen and could stay in Hungary only through her husband, it would have meant Anna's deportation. And so the hiding began. Of course it didn't take long for her husband to show up every day, we could hardly keep him out of the flat. The situation started to get out of control, so the family got together and decided we would bring Anna to our faraway country house, which her husband did not know about. This was to give her the chance to recuperate, and for us to figure out a solution.
I think it was during this time that Anna became a full member of the family and that she accepted us as her family too. We did everything together, her divorce, the flat hunt, everything. Every time her mother travelled to Pest, her first destination was our flat either bringing some gift or banding up with Anna for a spring or Christmas cleaning.
I loved them with all my heart because they were quarrelsome and the two of them could put on a real show together. The sign of love for them was that they never held themselves back in anything. On these occasions they jointly scolded the whole family for our sloppy lifestyle… I loved it.
Then I moved here and there, even lived abroad (where I was a cleaner for a year by the way), but Anna stuck with my mother and worked for her fo 5-year-old prices. Only for her. Then my daughter was born and she was back in my life again helping me whenever she could. She loved my child and supported me all the way. By that time she remarried, but unfortunately  after years of trying hard, she could not have what she wanted most in her life: a baby.
But beside not having a child, due to the many chemicals she used during her hard life, Anna developed several diseases, which slowly made it clear that she could not do this job forever. She completed quite a few courses next to her hard work, but found her real passion only about 8 years ago. With their spared money and a loan they finally managed to buy a little countryside house. There she could do the gardening and keep animals again, and what is the most important: she could find a job as a nanny at a nearby nursery school. Although I haven't seen her ever since, I am happy that 20-year-old girl has found her place and has a bunch of kids around her.
The doilies are now with me and whenever I look at them, they remind me of both may grandmother and Anna. She really became part of the family…
Source: wmn.hu