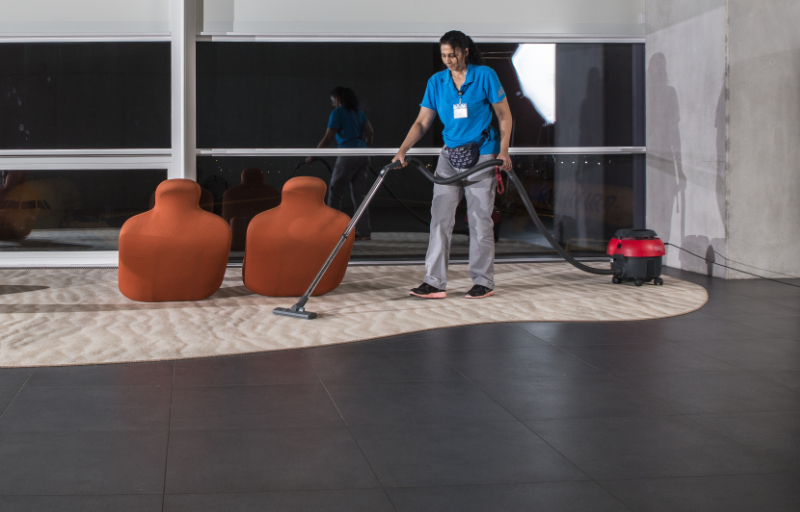 "A broom, a pair of gloves and a headscarf and there you have a cleaning lady" – this might be the best-known line of Hungarian rap band Animal Cannibals's 'Cleaning lady', a song we could surely sing by heart at any time. But what does this profession entail? And what do cleaners think about their own work? Do they feel appreciated or do they rather hide their profession because of the stereotypes? Now we are finding out how cleaners feel about working in this profession.
"Cause she's a superwoman, she's a supergirl / She was created superb by the Creator / Not anyone could pull off the thing she does / she holds on to a brush and ever just scrubs / and if you see the floor shining you can surely bet / She's been there / Who? / The cleaner staff"
Although the rest of the Animal Cannibals song might not be so well known, memorizing them and their positive attitude to cleaners might just serve us all. A survey conducted by the Hungarian Central Statistical Office found that people's attitude towards this profession has remained negative. In order to get a deeper look into the everyday lives of cleaners, we asked a few professional cleaners to find out how they experience their work, whether they like it and what the difficulty of the job is. Their words might ring a bell in us reminding us that we should appreciate and pay a bit more attention to them and their work.
Using tools is not enough, cleaning requires vocational expertise as well
'You have to know your detergents through and through, what can be used for what, which detergents mustn't mix. Our floor cleaners are alkaline, whereas for windows we use acidic cleaners. Since the coronavirus appeared, we get to clean even more surfaces, using special detergents on door handles', shares a few tricks Mrs István Konkoly, or Marika. And which is the most difficult part of the work? Maybe the mopping. A cart can hold 15 liters of water, which has to be changed quite often to ensure efficiency. Clean water is the point of the whole process, without it all the detergents are good for nothing. 'I feel appreciated in my work, there are some who specifically asks for Marcsi to clean her room. What I do is a matter of trust', she highlighted.
Professional cleaning and cleaning at home are not the same things
'It's nothing like cleaning at home, here everything is professional. Not only because we use modern machines or complex detergents, but also because here you do have to clean all the time outside of your break time', said Mrs István Jávorcsik, who started her cleaning career 22 years ago, and now works as a team leader. As she explained, the secret of efficient cleaning is working from the top to the bottom, from the inside to the outside and finishing the wet cleaning with a dry wipe. 'Here everything has to be in order by the end of the shift. I finish work by 1 in the morning, then I get a lift back home', she explained.
Cleaning comes with quite a physical effort
'By the end of the day, we feel every inch of our body, we bend our back, lift our arm and carry stuff a lot ', said Mrs András Konkoly, or Magdolna, who commutes to Budapest every day. As she walked me through their work processes, it turned out they work in pairs in an area of 1200 m2. Every shift they have 100-110 rooms to clean per cleaner. Dusting, cleaning, emptying the bins, mopping and vacuuming are everyday tasks, plus taking care of the restroom, the kitchen, the stairs and the corridor. With the appearance of the coronavirus disinfection came as an extra task. 'But when a room is nice and clean, the tiny parts come together and I feel satisfied. You have to put your heart into your work, that will make it thorough', she said.
Gratitude is a luxury among cleaners
'My superiors and colleagues appreciate my work, however, in my experience the office workers often complain about our work, they don't say thanks for it and don't express their gratitude for our work to create cleanliness for the next day too. It's a fact of life that cleaning is the easiest target for criticism', said Katalin Török. In her opinion, nowadays there is slightly less prejudice against the cleaning profession but there is still a lot of suspicion and negative stereotypes in people's mind. 'Maybe that's why so many of us leave for abroad, although there would be a great need for professional cleaners in Hungary too', she pondered and highlighted that among the cleaners the atmosphere is cozy, they have dinner together and support each other emotionally too.
Trust is indispensable during cleaning
'When I am cleaning someone's desk, I can get to know a lot of things about them, like how their day went by, how demanding they are about their environment, how thorough they are, or even what their field of interest is. But I keep all this to myself and not make a chat out of it', said Terézia Kiss. She emphasized that people's work and to some extent private life takes place in the area she cleans, therefore, trust is an indispensable part of cleaning, the same way we don't allow strangers into our home. 'To give an example, we clean a desk only if there is nothing on it. If there is a seemingly important document on the desk, we always consult the team leader, who can decide if a document on the rubbish bin was put there deliberately or accidentally.'
If we think a little bit about our own work in the office, we will soon realize how many people we get in contact with during a single day. Through our work, we often have to cooperate with others or other departments, and if the cooperation was successful, we naturally express our appreciation and gratitude to the others.
And yet, we tend to forget about the cleaning team that makes all of this possible. We might not be in direct connection with them, we might see them all the time, nevertheless, they work every day so that we can pick up work in a clean environment next day. Let's include them in the circle of people we consider our colleagues, and be grateful for helping our work by creating a clean environment for us. It does not take big gestures, some subtle niceties may be sufficient: leaving a thank you note or a few kind words on our desk at the end of our work or wishing them a dice day when meeting them on the corridor, just like we would do when meeting a colleague of ours. It will surely make them work even more enthusiastically for the cleanliness of our work environment!
B+N Referencia Zrt. provides services related to facility management, cleaning and gardening in over 5 million m2, at over 2600 premises, employing over 4.000 people nationwide. With its campaign titled "Look around and see!", Hungary's biggest cleaning and facility management company is trying to call attention to the value and importance of the cleaning profession as well as raise the pubic recognition of cleaners.
Source: blikk.hu