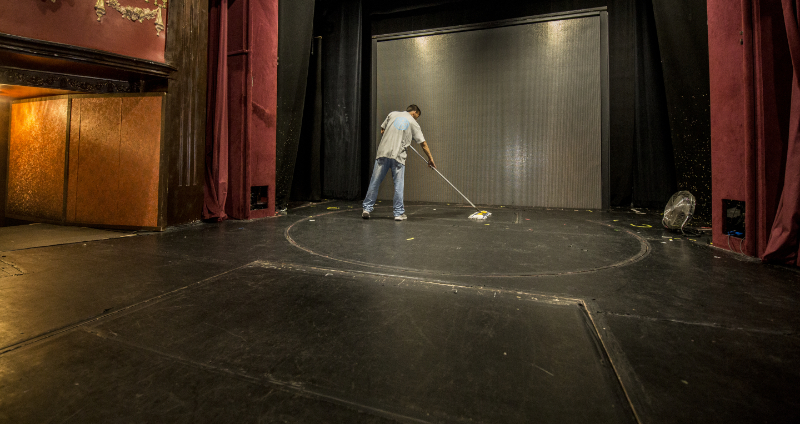 More than 30 years ago I took my desire to become an actress so seriously that as a total stranger, I knocked on the door of Hungary's then undoubtedly best theatre, and told the porter I wanted to work there. Her face brightened up as they were looking for a cleaner. Obviously, this was not exactly what I meant by it but I took the opportunity. I will tell you all I learnt during the period when I was a cleaner in Katona József Theatre. By Gabi Both.
You've got to start your life somehow…
I was an actress since I was a little child. Jászfényszaru, where I grew up, looked (and still looks) back on an immense acting tradition. The Fortuna acting ensemble could thank its nationwide reputation to Andrásné Kovács, or Aunt Rozika, one of the best theatre pedagogy experts. My elder brother also played in Fortuna, and I learnt recitation, situational drills and whatever I could in the Napsugár child ensemble already as a junior.
I learnt that reading helps you live, poems save lives, and team spirit is important. We wandered around the country with our performances, taking part in quite a lot of reciting contests, winning prizes both as a team and individually. I was always in the top notch, and even if I did not get in the first three (which rarely happened), I was sure to be awarded with at least a special award.
The prize was often a book voucher, which gave me extra motivation to properly prepare for each contest. Based on these experiences, I decided I would become an actress. I never found conventional ways attractive, therefore I decided I would start preparation in the school of life.
Cleaner is requested on the stage!
I was 18 when I moved to Budapest and got into the life of theatres. I was not the only one to "give up everything for the theatre", a fellow cleaner for example came as a fresh humanities graduate from Szeged to be where "things happen".
She recommended me a lot of plays, for example we analysed the "three Ts": Péter Nádas's drama trilogy, Takarítás, Temetés and Találkozás.
It must have been a bit comical when, next to a windowless cleaner's locker room, the two of us were arguing about how credible Nádas's scenes were on paper only to hear the stage manager say: "Cleaner is requested on stage!" We jumped on our feet to grab the buckets, mops and brooms and rushed to the stage that meant the world.
I was a human being
I had a pretty rough childhood, I have told a lot about this. As a teeneager, I didn't find my place for a long time. In the Katona József Theatre, however, I was accepted right away and got into a company of great individuals.
I could knock on the door of György Cserhalmi to nag him with my latest poem anytime. Not only did he read them conscientiously, he always had a few kind words about my spelling, how nicely I write and always encouraged me to continue writing poems. One of the best and most popular actors was kind to me, the black-dressed, blonde teenager cleaner.
Nobody felt it beyond their dignity to have a few words with me.
Tamás Cseh was always shaking before each of his performances, and I, as a cleaner on duty, sometimes had the opportunity to stand behind the stage and he never once failed to hold my hands before going on stage. And when his performance was over, he always hugged me with a sigh of relief.
Ági Szirtes even invited me and a dear colleague of mine, who was the granddaughter of one of the greatest living historians at the time, to her house party. At first she didn't get admitted to ELTE, but a year later she was a happy university citizen. However, at the time we were both excited as to what we would do there, "among the famous actors of the capital". What else could we do than have fun and laugh a lot? They treated us as equals.
When at dawn, at the end of a party, I was standing at the Rózsadomb, totally lost, wondering how I could get back to the theatre, Sándor Gáspár noticed me, called me a taxi and pushed the fee into my hands because, of course, I didn't have enough money for the cab. He never accepted the money back, despite my numerous requests.
HERE I have already written about how János Bán reacted when he saw me washing the theatrical props at about midnight, following the performance of The Three Sisters.
Nobody cared that we were doing the menial work in the theatre because they knew fully well that a clean stage, house, changing room and restroom are also parts of the success of the performance, not to mention the enormous shiny glass doors that you pass as you enter the building. To think of how many times I scrubbed off old posters in the dizzy height…
The point is everyone appreciated our work, and they made us feel it all the time.
A privileged position
The legendary theatre secretary, Laci Magyar always gave me free tickets, even for premieres, that I could give to my theatre-loving friends, at a time when half of Budapest was lining up for tickets. I could sneak through the doctor's office to see the performance anytime when I was not watching it from behind the scenes. In a whole season, I saw Exercices de style, The Three Sisters, Coriolanus and Csirkefej every time they were performed. I loved every performance and learnt a lot from them.
Theatre became my home
After a while I moved into the theatre as I found neither of my digs in Újpest and later in Csepel particularly attractive. Having lived in the countryside, it was difficult for me to get used to the blocks of flats on top of each other and I wasn't rich by any measure… Therefore, everybody tacitly accepted that the black-dressed cleaner with the long blonde hair would snuggle up to sleep on three chairs pulled together in the cleaners' dressing room, next to the restroom, with no window.
It is strange to think of it, but I was truly happy there. At least I was available whenever I was needed and nobody was bothered by my presence. I cleaned the house buffet for some extra money or free cookies (I always asked for piramisszelet, do you remember it?), and I was always on duty during the evening performances.
I never felt anybody treating me unfairly, not for a second. They acknowledged and rewarded my work, treated me as an equal and accepted me for who I was.
Cleaning again, but in a different environment
After one and a half seasons, a composer working in the theatre "drew me out" with his love. We lived together for years. Meanwhile, I didn't have an official job but always found some work. For example, I read for a visually impaired old friend of mine, which I wrote about earlier HERE.
Then I became a housekeeper at a member of parliament, one or two years after the fall of Communism. There were 3 schoolchildren there with 2 extremely busy parents. The unbelievable, elated, surging freedom made me happy.
"Mr MP" always asked for my opinion on the parliamentary speeches, since we were following the broadcasts enthusiastically of course. He praised the meals I cooked, his wife, an editor, not only shared with me their family recipes but also let me know which author was planning to publish what. Sometimes, she even asked for my advice as to who I thought she should ask to write this or that article.
All the classmates of the children were coming to us after school, which meant I had to cook an enormous amount of food every day. Of course, I vacuumed the floor, washed and dried the clothes every day, and I ironed "Mr MP's" shirt every morning before he went to the Parliament.
They lived in the downtown, in a beautiful flat in Párisi-udvar (the stage door of Katona József Theatre was in the same building), and they had been struggling with recurring surge of cockroaches. I was the first to introduce systematic cleaning there and through the regular harrassing of cockroach control services, I managed to get rid of the bugs. It was not the family's fault, the old pipeline of the house served as a nest for a gargantuan colony, but I didn't give up and managed to make them disappear.
They appreciated my efforts and I earned the teenagers' trust, sometimes I would go with them to the cinema or concerts. The parents trusted me so much that during the first no-parent party the children could organize, I was the only adult there. I'm not saying the party was dull, but everybody survived the initiation party safe and sound. I loved being with them, that was the time I decided I would have at least three children. It was so good to see them develop day by day, to see their little teenage quarrels and the huge social life.
Boy, this past 30 years passed quickly
Many of my dreams have come true, I do have three children and I published 3 children's tales, the third of which had its launch in Katona József Theatre. HERE I wrote about it earlier.
The house manager, Györgyike Horváth, who has been working there for decades, gave me a warm embrace both when I was "only" a cleaner and when I became a participant of the events there.
Now that I have written it down, I see how nice and round this story is. I am very happy to have lived through all this.
I ask you to please appreciate and acknowledge the far-from-easy work cleaners do during these very difficult times too. Remember that sometimes their humble efforts might very well save our lives.
Source: wmn.hu